The ISAAC Coach is an innovative in-cab coaching solution for truck drivers that promotes eco-driving while offering so much more. Initially designed to deliver fuel savings, it was expected to also enhance safety, as both eco-friendly and safety-conscious driving practices overlap. This extra benefit is now documented by an independent study. And based on the experience of drivers actually using the ISAAC Coach, we've observed that it contributes to a positive experience for them on the road and creates friendly dynamics among the drivers inside a fleet.
This blog post dives into how the ISAAC Coach contributes to safety, cost savings, and driver happiness.
What is eco-driving and how does it enhance safety?
Eco-driving is a term coined by the Swedish National Driving School in 1998 and is now used around the world. Most are familiar with the basics of eco-driving which include, for example, gradual acceleration and the avoidance of sudden turns or braking by anticipating exits or the need to slow down or stop. It's easy to envision how this type of driving also leads to safer roads.
A recent independent study conducted by the Traffic Injury Research Foundation (TIRF) now confirms that advanced telematics systems like the ISAAC Coach offer tremendous potential for fleets seeking ways to help their drivers be safer and more efficient. The study included three heavy-duty trucking fleets that use the ISAAC Coach and found that adopting a fuel-efficient driving style clearly translates into fewer highway accidents and near-misses. This "side effect" is a considerable benefit, if not the ultimate goal, when considering the numbers regarding safety on our roads.
Despite advancements in safety technology and increased safety-focused regulations, the number of fatal road accidents remains alarmingly high. 2021 saw a 10.5% increase in road fatalities compared to the previous year. The ISAAC Coach can lower the risk of accidents and improve overall safety.
Accident avoidance is also vital to saving money—not just in terms of lost time and the cost of repairs, but also to avoid legal issues—including preventing a nuclear verdict. ISAAC's advanced technology encourages safer driving styles by giving the driver instant feedback whenever a harsh maneuver, such as hard acceleration or braking, is detected. This enables proactive risk management through timely information that encourages safer driving.
The ISAAC Coach provides reporting that can be used for drivers to see how they're doing and for training purposes. Whether used alone or coupled with video footage from the ISAAC InView integrated camera system, these driving metrics can be used as "teachable moments" in fleet training programs, showing drivers how to best handle real-world situations that happen out on the road.
For example, one ISAAC client, Kriska Holdings, uses road incidents as coaching opportunities―even when their driver was not at fault. In one case, a passenger car lost control and crashed in front of one of their trucks, triggering hard braking to avoid colliding with the car. Although the driver responded perfectly to what had occurred in front of his truck, the incident was used for further online training to boost maintaining awareness of the driver's surroundings.
Enhancing safety by managing compliance and risk
In a heavily regulated industry like trucking, compliance is always an important area of focus. One way that ISAAC simplifies trucking is by making it easier to maintain compliance, including by offering guided processes and automated reporting.
This goes well beyond ELD technology to maintain hours of service records. It includes facilitating daily vehicle inspection reports (DVIRs) and generating data that supports managing compliance processes as efficiently as possible.
The ISAAC Coach has a direct impact on compliance by cutting the risk of accidents and violations―along with the fines and penalties that go along with that.
The in-cab coaching is coupled with the transmission of alerts in real time to the back office whenever there is a hard maneuver or hard braking. This helps you take a proactive approach to safety, allowing for interventions before any violations occur.
The ISAAC Coach also allows you to quickly identify risky behaviors before they cause problems. As an example, consider the risks of distracted driving and fatigue. Estimates vary, but it's generally reported that each of these two factors is involved in up to 30% of accidents. By helping to reduce distracted driving and fatigue, the ISAAC Coach substantially lowers the risk of accidents from either of these causes.
How the ISAAC Coach saves fuel
Trucking fleets are increasingly looking for technological solutions to help them cope with rising fuel costs. According to trucking industry research from the Technology Maintenance Council (TMC) and ATRI, driving behaviors can make as much as a 35% difference between the most fuel-efficient and least fuel-efficient driving.
In addition, 30% of fuel consumption is under a driver's direct control with factors such as speed, acceleration, braking, and use of cruise control. As many driving teachers can attest, a large part of eco-driving involves smooth driving, including gradual acceleration and maintaining safe following distances.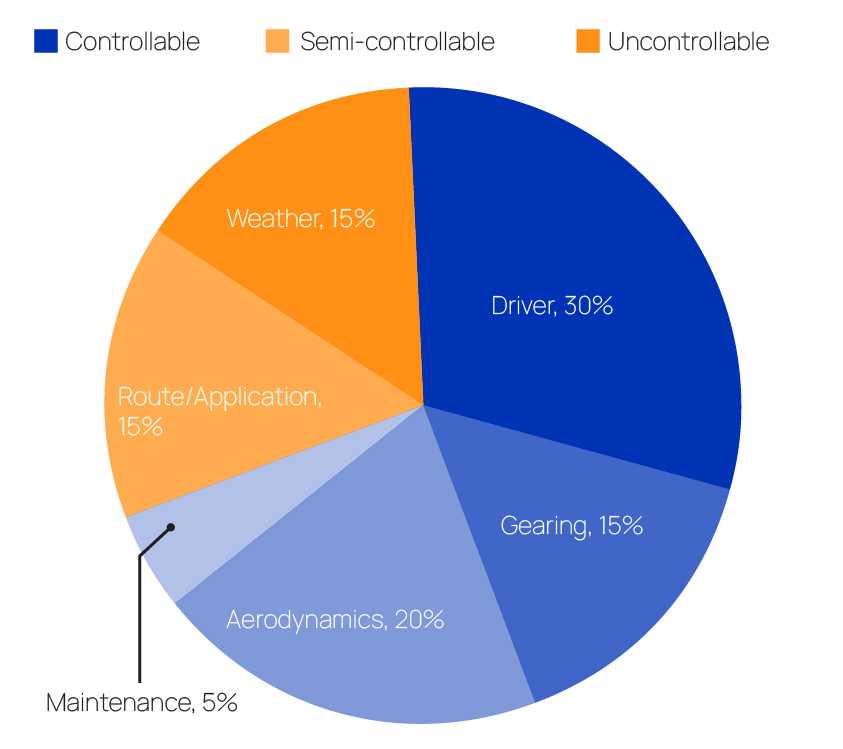 Avoiding harsh braking and turning is something that may not be immediately evident. As Cody McClain, vice president of safety and human resources at Tucker Freight Lines (an ISAAC client), explains, "If you're braking harshly quickly, you've got to get back up to speed."
The ISAAC Coach works by displaying a color-coded indicator on the ISAAC tablet. When the driver presses the accelerator pedal, the display offers cues on how much pressure is needed while considering multiple data points collected by the ISAAC solution to calculate rolling resistance and mechanical resistance. It uses the information to provide easy-to-follow cues around three activities: accelerator pedal pressure, optimal gear changes, and when to avoid using cruise control.
The objective is to reach and maintain 95% adherence to these cues. This results in up to a 5% gain in fuel efficiency, according to users. While that may not sound like a huge percentage, it adds up to substantial savings in fuel—especially when it's fleet-wide.
Try our fuel savings calculator
Saving on maintenance costs
Maintenance is the second fastest-growing cost center for fleets after fuel. Some factors that influence rising maintenance costs, such as spare parts, are outside of your control. However, taking a proactive approach to maintenance is one way that fleets can rein in maintenance expenses.
While ISAAC's Smart DVIR can be a practical foundation for any preventive maintenance program for your fleet, the ISAAC Coach also reduces maintenance costs. It does so by fostering driving behaviors that minimize vehicle wear and tear in addition to using less fuel.
Of course, by reducing the wear and tear that comes with more aggressive driving styles, using the ISAAC Coach also helps boost the overall longevity of each truck in your fleet, which saves money. It also lowers the risk of experiencing a sudden breakdown.
Keeping drivers happy
Good drivers are hard to find and can be even harder to keep. Keeping drivers happy has long been a key focus area at ISAAC. This involves making drivers' lives easier by way of an easy-to-use solution that incorporates automated workflows and next-action prompts. But beyond offering a user-friendly solution that drivers can appreciate, ISAAC's solution, including the ISAAC Coach, supports driver professionalism through ongoing skill development and recognition.
Evaluating driving behaviors can be tricky. Experienced drivers may feel like they don't need further training and may resist the idea of in-cab coaching. The ISAAC Coach, however, can be well accepted by drivers.
"The Driver Coach app really works well with the driver. In talking to drivers, that has been the number one thing they love."
No matter their experience level, drivers expect fair and transparent evaluations of their driving behaviors. Maintaining objectivity is critical, as even the perception of favoritism in these evaluations can affect the relationship with an individual driver and group morale. The ISAAC Coach lets drivers see a summary of how their driving results compare to the targeted objectives. The system works through big data recording, with exceptionally precise telemetry data from ISAAC InMetrics. That data is then analyzed using ISAAC's patented algorithm to transform the data into meaningful feedback for the driver.
Because the feedback is provided in real time, drivers can adjust their driving style right as they're driving. The system analyzes their performance and produces a relevant score regardless of the truck model, load, or route type.
These ISAAC Coach results are ideal for using as part of a driver reward program. With fleets increasingly implementing such programs to offer bonuses or perks to drivers based on their performance, it's vital to maintain the sort of fairness and objectivity that the ISAAC Coach provides. It's critical to getting drivers' buy-in and maintaining their respect for such incentive programs.
Beyond helping individual drivers, the ISAAC Coach has been known to foster friendly competition among fleet drivers to see who can get the best results. This promotes a culture of safety across your fleet, all in a positive mindset.
Using technology to everyone's benefit
ISAAC's mission is to simplify trucking and keep the wheels turning―figuratively and literally. From enhancing safety, to lowering fuel and maintenance costs, and keeping drivers engaged, even small improvements on each truck—thanks to a tool such as the ISAAC Coach—benefit everyone.
We at ISAAC have long known that eco-driving improves safety as well as fuel economy. This has now been borne out independently by the Traffic Injury Research Foundation's (TIRF) study confirming that advanced telematics systems and in-cab coaching solutions such as the ISAAC Coach can help fleets make drivers safer and more efficient.
Ultimately, it's your drivers that keep your fleet going, so keeping them happy makes good business sense. To that end, the ISAAC Coach not only provides them with the individual feedback they need to drive their best, but fosters a culture of safety and improved efficiency across your whole fleet.
Contact us to learn about implementing ISAAC Coach. Or, if you are already using the ISAAC solution, be sure to ask us for guidance in making the most of ISAAC Coach.
About the author
Julien-Pierre Daigle, P. Eng.
Data Analysis Engineer, ISAAC
Julien-Pierre Daigle is a Data Analysis Engineer at ISAAC. Within the Data Science and Artificial Intelligence team, he participates in the development of feature engineering. More specifically, he prepares the data to make it usable by the rest of the team. Big data, in its simplest form, is practically unusable. It must be filtered, grouped, and sorted while retaining its original value and meaning. With 15 years of experience in vehicle data analysis, and 10 years with ISAAC, he shares his knowledge to tell trucking-relevant stories using the ISAAC solution data. Trained as an accident reconstruction engineer, Julien-Pierre leads the service of telemetry reporting used to explain and demonstrate the facts of incidents. As with big data, raw data alone does not explain an event. Understanding the data and the physics is therefore essential for explaining the facts.