Remote Tablet Control
Enable better communication between drivers and dispatchers.
Remote tablet access gives dispatchers direct control to the tablets of drivers on the road. This feature ensures you never leave your drivers stranded when they need help.
Driver support
Drivers appreciate the additional support from dispatchers and fleet managers.
Easy onboarding
Truck driver training on the ISAAC tablet may take only a few minutes, thanks to remote support that allows them to get help while on the road.
Simplified troubleshooting
Because dispatchers see tablet screen contents in real time directly from their office workstation, they can quickly understand and help solve issues encountered by drivers.
Increased productivity
Simplified communications between drivers and dispatchers leave them more time for their key tasks.
Help your drivers when they need it.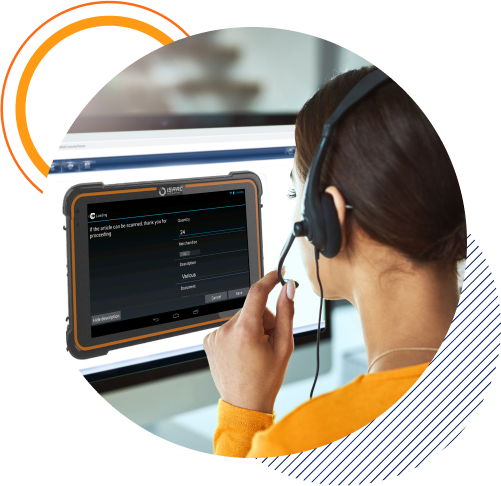 Shared screen
The dispatcher can access the driver's tablet while they discuss the issue encountered.
Instant communication
The connectivity of ISAAC's solution enables remote control in real time, anywhere, anytime.
Same software for all
All fleet drivers are using the same software, which makes it easier for dispatchers to support them.
Easy driver tracking
With the ISAAC InRealTime web portal, dispatchers quickly find the truck of the driver they want to help.
Live driver support 
The remote support application has made our training process much easier. Drivers are reassured to know that if there's a question, we can guide them on how to use the tablet as if we were right there by their side.
Improve your team's communication and
productivity